Virtual Reality is a creative way to interact and engage with target markets. Recently, many brands have picked up on this new and innovative technique. Whilst VR can be expensive there are cheaper alternatives, such as Google Cardboard, which allow consumers to use their smartphones to simulate virtual environments. Everyday use of VR is becoming more and more prevalent. From gaming, to use in plastic surgery practices, VR is tech we should all have our eye on. Most importantly for a growth hack marketing agency, it's a less conventional and highly memorable way to engage with target markets. Here, we showcase some of our favourite examples of how brands have used VR to enhance their marketing strategy
Marriott – The Teleporter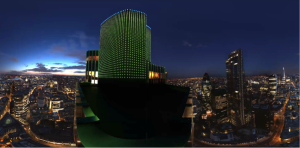 Marriott created a teleportation booth experience allowing people to teleport firstly to a Marriott Hotel, and then to a beach. They partnered with Framestore VR Studio to create a 4D virtual reality using wind jets, heaters and oculus rifts. This was an ideal fit for the brand and it makes you start to consider how VR could influence decision-making when it comes to arranging trips in the future.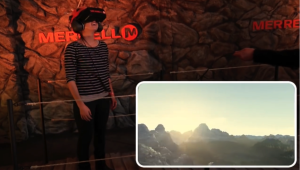 Merrell – Trailscape
To support the launch of a new product in their hiking boot range, Merrel created a VR experience. A set was built and participants walked along it during the VR experience, creating a truly convincing reality. The reaction of the participants was filmed and you can tell that they most definitely left with an unforgettable experience!
Topshop – Catwalk Experience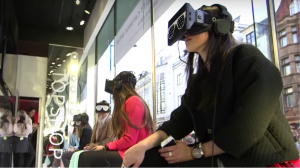 Topshop offered people a chance to view a front-row exclusive of their runway show during London Fashion Week with a 360-video stream. They selected competition winners for this VR experience in a pop-up space in their flagship store. This was a great way to collect data through the competition whilst satisfying fashion enthusiasts with a cherished memory.
Fanta – Halloween Elevator-crash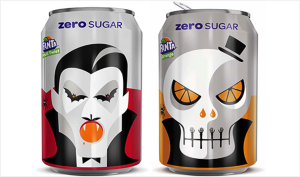 Fanta created a Halloween themed VR experience of an elevator-crash in a shopping centre and theme park to fit with their limited-edition Halloween packaging. This campaign was cleverly delivered by combing their experience with an exclusive Snapchat filter and lense, which the public could only get when the QR code on the new cans were scanned. Fanta also used influencers to recreate the Snapchat filters using costume and make-up. As a digital marketing agency, we recognise the effort that went in to integrating these marketing communications – well played Fanta!
Paul McCartney – Live Concert
Paul McCar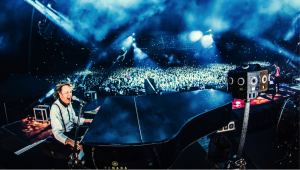 tney teamed with Jaunt, a virtual reality app, to allow people to experience the event and 'go on stage' with the musician. This received a lot of publicity and provided an opportunity to get an up-close view of the concert they would not normally receive. It's safe to say Paul McCartney fans enjoyed it!